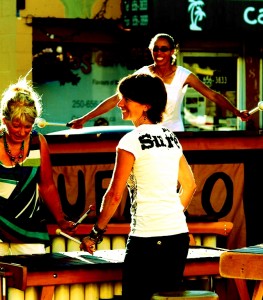 PHILOSOPHY….. we love Shona music, and we love to learn. This exciting, dynamic, poly rhythmic music is fun to learn and challenging to play. We love the traditional connection and strive to play it the way it was meant to be played,  but we also love to "spice it up" too!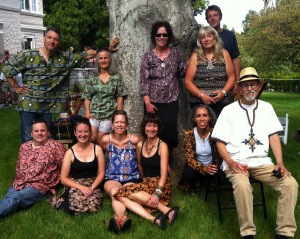 MUFARO  …the name means "Joy" in Shona, the language spoken by the originators of this music in Zimbabwe. Mostly traditional mbira pieces rearranged for marimba, as well as some more contemporary tunes associated with the independence movement, the music is happy, fun to play polyrhythmic parts that fit together like a puzzle.
Our instruments are handmade wooden marimbas fashioned after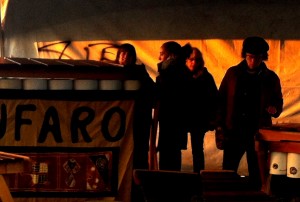 those first made and refined in Zimbabwe around 1960 and chosen as a new national instrument taught to students at Kwanongoma College in Bulawayo. The maranka gourd shakers we use are called "Hosho" and are an essential part of the music. Dr. Dumisani Maraire, introduced the music to the west coast of North America in the 1970's.
Mufaro would like to honour and acknowledge our teachers. We have been very lucky to have had several wonderful teachers in the past.
Garadziva Chigamba – Our current teacher. Garadziva has always been willing to share the music of his culture with us, with an open and generous heart. He never says no. Without Garadziva, none of us would be playing marimba today. We are constantly amazed by his talent and the sheer number of parts this man has in his brain!
He is the Director of Jambanja Marimba &Dance Group, performs lives, and teaches in Victoria BC . Thankyou Garadziva.
Sandy Ockenden – Sandy taught us in the early days. With his patience we learned our first songs and he gave us a gentle push to perform. Sandy guided us through the building of our first marimbas.  A kind and generous man and extraordinary teacher. Thank you, Sandy.
Ted Wright – Ted helped us out in the early times too. Ted is still always willing to help and we are grateful for his easy smile and warm heart. Thank you, Ted.
Ona Connon – Ona helped us understand the rhythms and how very important hosho is to the music – the heartbeat of the music. A rare and beautiful lady.   Thank you Ona.
Dean Samuel taught us July in Winter, and made some of our beautiful new marimbas. A craftsman. Thank you Dean.
Musekiwa Chingodza – A very patient man. Gave us his version of "Chikende"  Thank  you, Musekiwa.